A STORE BY A FISHERMAN FOR FISHERMEN
Welcome onboard to dingledell2 FISHING BAITS Bait Shop .
SUPERMARKET PRICES
ONLY TOP MANUFACTURES BAITS SUPPLIED
SAFE SECURE SITE,
WE WILL NEVER EMAIL YOU FOR YOUR CARD DETAILS
WE DO NOT HOLD YOUR CARD DETAILS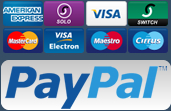 WE ALSO ACCEPT WORLDPAY PAYMENTS
IN ASSOCIATION WITH CREATE PAYMENTS
BARCLAYCARD ACCEPTED
OUR SHOP WILL BE RE-MERCHANDISED OVER THE NEXT 3 MONTHS.
FIRST CHANGES ARE ON POSTAGE / SHIPPING
AUTOMATIC COMBINED POSTAGE
ON ALL BAITS
WE HAVE BEEN SELLING ON AMAZON FOR 3 YEARS
WE HAVE BEEN SELLING ON EBAY FOR 12 YEARS
WITH EXCELLENT FEEDBACK FROM OUR CUSTOMERS.
Tight Lines
dingledell2 FISHING BAITS
EBAY & AMAZON