A STORE BY A FISHERMAN FOR FISHERMEN
ll WELCOME ABOARD dingledell2 FISHING BAITS
THANK YOU FOR YOUR SUPPORT DURING 2017
TIGHT LINES FOR 2018
FREE POSTAGE
Huge selection of CARP FISHING BAITS
PELLETS AND BAITS FOR BARBEL & CATFISH
We offer you High Class Baits at affordable prices
GUARANTEED DELIVERY
24 HOUR EXPRESS DELIVERY ON ORDERS OF 3KG OR OVER
Next Day Dispatch Except Fridays & Weekends.
OUR STORE IS OPEN 24 HOURS
WE ALWAYS REPLY TO YOUR MAIL & PHONE CALLS
EMAIL ME FOR YOUR 10% DISCOUNT CODE
***** WE OFFER YOU A 5 STAR SERVICE *****
07825 324009 OR 01366 324436
EMAIL : dingledell2fishingbaits@gmail.com
WE DO NOT HOLD YOUR CARD DETAILS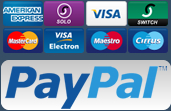 PAYPAL ALWAYS RECOMENDED
WE WILL NOT ASK FOR YOUR BANK DETAILS
ALL TRANSACTIONS ARE BETTWEEN YOU AND YOUR BANK
WE ALSO ACCEPT WORLDPAY PAYMENTS
IN ASSOCIATION WITH CREATE PAYMENTS
BARCLAYCARD ACCEPTED
WE HAVE BEEN SELLING ON AMAZON FOR 3 YEARS
WE HAVE BEEN SELLING ON EBAY FOR 13 YEARS
WITH EXCELLENT FEEDBACK FROM OUR CUSTOMERS.
Tight Lines.
Colin Marsh
dingledell2 FISHING BAITS
dingledell2fishingbaits@gmail.com
01366-324436
07825324009